Welcome to Youth Services!
Our staff is ready to serve and support children to learn, play and grow. Here you can find book recommendations and new titles, fun events, and homework help.
Book Recommendations
Stinkbomb and Ketchup-Face and the Badness of Badgers by John Dougherty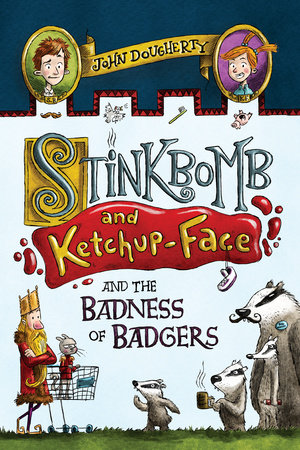 Hey you! No, not you – the person behind you. No, not him either. Left a bit, left a bit more . . . You! Oh for goodness sake . . . never mind . . .
Dear Everyone (including you!)!
Welcome to the world of Great Kerfuffle!
It's really great. And there's usually a kerfuffle (the clue's in the name really).
Come and join our intrepid heroes Stinkbomb and Ketchup-Face as they set off on a highly dangerous and nail-biting adventure (or it may just be very silly and mildly perilous!). Oh, and there might be a few dodgy badgers hanging about too . . .
Meet the funniest collection of characters ever known to mankind in this stupendously hilarious book that will make you laugh your socks off, and quite possibly your ears too.
New Books
To see a list of our new Children's books for September, click here.
Kids Events
Brad, Cameron, and Stephanie host all kinds of events at the library for kids. The first Wednesday of the month is Lego Club. Baby storytime is held on Monday mornings at 10:30. StoryTots is our preschool storytime on Thursdays at 10:30 am. For special events always check our event calendar link below and follow us on Facebook!
Go to our events calendar to see all the great programs we are offering!
Homework Help
Even the smartest scholar needs help every now and then.  Below are some great links to help you out with homework questions or help to find a tutor.
Rose-Hulman offers free math and science homework help to Indiana students.  Click on the link above to see their hours and how to contact them.
Got questions about math and need help right now?  Go to freeMATHhelp.com.  They have sources for people as young as kindergarten all the way up to calculus!
If you're looking for an extra boost or need a little extra time with a subject, Khan Academy offers lessons for free in a variety of subjects.  They have resources and lessons in math, history, art, finance, biology, and many, many more subjects!
Back to top